Strona o podanym adresie nie została odnaleziona.
Zapraszamy na stronę główną.
Description of the intellect BI system BI
In the twenty-first century, the key to success and financial prosperity of the company is to possess tools better competition – by offering you purchase of Business Intelligence class system we believe that one of those activities that constitute a competitive advantage may be implementation of BI system INTELLECT. 
INTELLECT BI is an open type system that integrates and communicates with other software. It provides necessary data , which are collected from other transactional systems and stored in a common database , and then used and processed into business knowledge which in essential to manage. The system supports management processes on many levels – from the sales to the complex production processes (see diagram).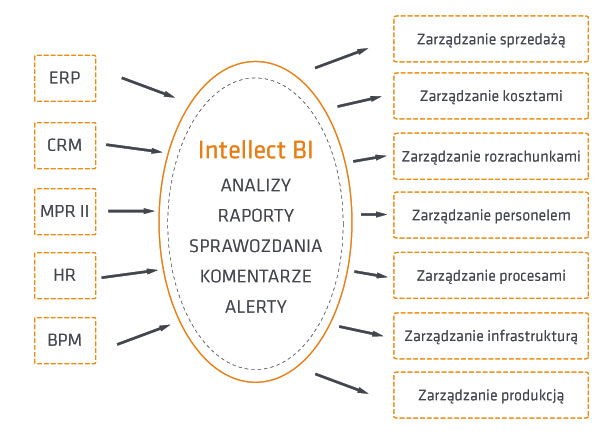 NTELLECT BI is an integrated,, multi-module system that allows you to work on multiple desktops . There is also a internet version of the system,WEB Intellect, which enables distribution of information through the web-browser, establishing client sites or making information to go public through its publication on the Web . Additionally, any information can be displayed on the map in the Geographic Intellect public – more about the individual modules , the functionality and the scope of operations you will learn in the SYSTEM ARCHITECTURE tab